Florida Roofing Disasters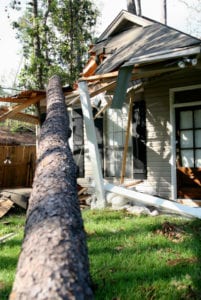 All Area Roofing, Inc. provides building owners, property managers, condominium associations, building engineers, and residential property owners with an emergency response team to minimize roofing damage caused by hurricanes, windstorms, fires, water pipe ruptures or the average afternoon rain shower.
We have experienced personnel across Florida equipped and ready to handle these types of emergencies and they can be dispatched 24 hours a day from our offices in Tampa and Ft. Pierce. All Area Roofing has adopted emergency response procedures to ensure that our customers are serviced as quickly and efficiently as possible.
All Area Roofing, Inc. is able to respond virtually anywhere in the Floirda, Puerto Rico, Bahamas and other North and Central American locations with our vast network of suppliers, affiliates and our cargo containers which can be shipped to any of these locations in 48 hours or less after a major disaster. Our crews can be reached and dispatched via satellite phones, pagers and two way radios.
All Area Roofing, Inc. provides the following services:
•  Re-roofing
•  Demolition
•  Removal of debris
•  Tree and shrub removal
•  Temporary dry-in
•  Tarp installation
•  Repairs to roofs, stucco, masonry, etc.
•  Waterproofing/ Coatings
•  Sand removal
•  Moisture control
•  Dehumidification
•  Structural Repairs
•  Mold/ Mildew removal from building interiors
•  Glass and broken window removal
•  Installation of temporary doors/ windows, etc. to secure facility
•  Temporary fencing
These types of emergencies are a fact of life that cannot always be avoided, but preparation and action before and immediately after the event can limit the damage caused not only by the weather event itself but the subsequent damage created when the structure and its contents have been exposed to the elements. Our goal is to help prevent consequential damages such as these by securing and protecting our customer's properties, investments and providing piece of mind that if an emergency occurs we can assist.
All Area Roofing, Inc. is familiar with many insurance companies and their policies and will work in conjunction with adjusters to assist with inspections, recommendations, and ultimately settlements to remedy the situation in the best interests of our customers.
Call us today from anywhere in Florida to set up a free consultation..