Large Resort Hotel Roof Installation
Installing Reunion Resort's "Disneyland" Roof would be a challenge many Florida roofing contractors might not accept
The Reunion Resort, in Orlando, Florida, is a 12-to-14-story complex of buildings with a mixture of 27 discreet roof structures, running the gamut from flat to mansard and sloped, covered with TPO, shingles and tile.
Project basics:
50-year old GAF shingles were installed to cover three roofs.
Tiles on several roofs were installed and tied off to meet safety regulations.
On the stucco structures of the complex, a metal termination was created.
TPO membrane roofing was applied over 2-1/2 inch insulation on the flat roofs.
Unique Construction Challenges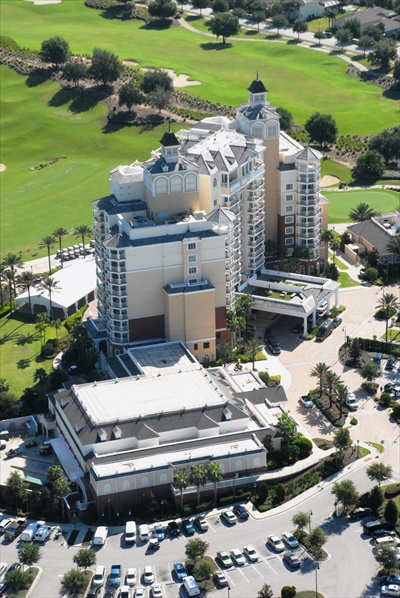 Railing systems were installed around most of the roofs; all of these railings penetrated the roof and required waterproofing.
The large swimming pool, located on one roof, required waterproofing.
Two copper cupolas terminated the top of two structures.  All Area Roofing outsourced their construction to a specialist in Texas.   Placing the delicate cupolas, 14 stories above the ground, required a seasoned hand on the crane controls.
Eighteen eight-foot copper finials, manufactured elsewhere, were installed on the 13-story building.
The work was further complicated by the conditions that prevailed—dealing with several roof systems supported by various-height adjoining walls—resulted in a "waterfall" situation. A creative, permanent solution for water disbursement, that would preserve efficiency of lower roofs, was in order.
Installing the roof on these structures would have presented a challenge not to be attempted by the faint of heart. Nevertheless, this contractor dug in and handled the complexity, alongside the exceptional, with dexterity and competence. The project took approximately 10 months to deliver 27 separate roofs, 2 cupolas and 18 8-foot copper spirals—not to mention a leak-proof swimming pool.
Asked why he thought he was better equipped than other contractors to handle this job, he responded, "Because we specialize in difficult jobs and this was considered a multi-phased, difficult job.